Looking for a wedding planner, experienced in Punjabi Indian weddings in San Diego? Ivory & Lace Creative Weddings has that experience. As a wedding planner with a degree in anthropology with an emphasis in world religions, cultural traditions have always been close to my heart. Please peruse below at the amazingly colorful wedding of Prabh and Simon. Our wonderful couple had a traditional Punjabi wedding week filled with various traditional ceremonies, culminating in a western festivity as well. All photos were provided by Samson Productions.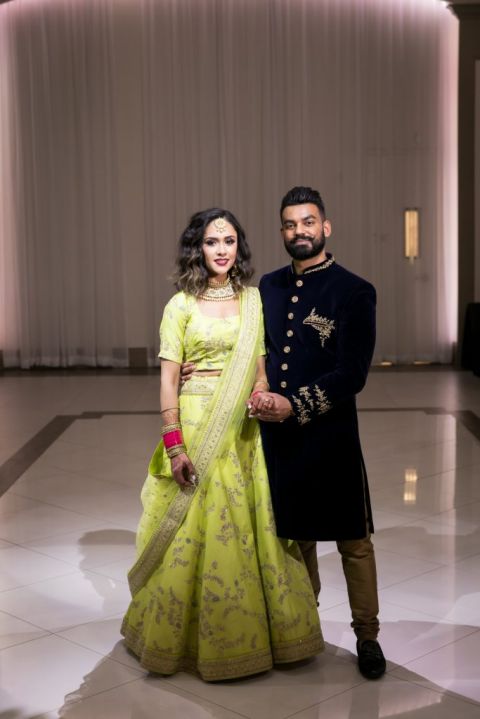 Pre-Wedding Traditions
Although we were not a part of the engagement ceremony (Roka and Kurmai), we were able to view the bride's other rich traditions. Prabh and her girlfriends and female family members participated in mehendi ceremony, where gifted henna paste was adorned to the hands or feet. The bride traditionally has both her hands and feet decorated in elaborate patterns to represent beauty and good luck. 
The Choora ceremony consists of beautiful red bangles being gifted to the bride to wear at her wedding. These are usually given to her by her brother. Look at how Prabh dons her bracelets in such a gorgeous way. Her guests will touch the bangles and offer their well wishes for the couple before sprinkling the bride with flower petals (a symbol of luck for her married life). To finalize the ceremony, the bride (who is dressed beautifully in an ornately detailed Lehenga dress) is topped off with a Dupatta veil to represent modesty and beauty.
The groom participates in a similar getting-ready ceremony. His grooms-attendant (usually a young boy family member) will dress similarly to the groom to bring him good luck in the future. The groom will traditionally wear a set of luxurious Kurta pajamas or a Sherwani as well as an ornate turban. After the groom is assisted in getting dressed by his family, a Puja is performed. A Puja is a holy offering of light, food, water, flowers, and gifts to their special deities in the Hindu religion. This is to bring good luck to the couple and also honor the spirits and the family in attendance. 
The sister of the groom will tie a Sehra (or decorative veil) to the groom's head which is meant to ward off the evil eye and prevent the bride and groom from seeing each other before the actual wedding ceremony. 
In many cultures, the groom, along with friends and family, create a parade known as a Baraat to the bride's home or the temple to meet his soon-to-be wife for the "first" time. The groom traditionally rides a white horse adorned with garland, gold ornaments, and colorful padding as a sign of good luck and opulence. 
San Diego Punjabi Indian Wedding Ceremony
Once at the temple, the couple participate in a Milni, or introduction to each other and each other's families. Gifts of flowers, money, and jewelry are often exchanged as a token of good luck. 
After the Milni the couple sits in the center of a circle or semi-circle and exchange heavy garlands of flowers to accept each other as their partner. Once rings are given to the couple by their parents, the couple sits in front of a sacred fire in front of the temple altar. This fire is known as Agni, an invocation of the Hindu Fire God—also known as the Mouth of the Gods, who acts as a vessel and receptacle of all offerings to the gods. This fire is traditionally circled 7 times. 
Vermillion is applied to the bride's forehead, just below her hairline, as a blessing from her husband. Then the groom ties a beaded necklace, or Mangalsutra, to the bride's neck as a symbol of togetherness. After these rituals are over, the couple will touch the feet of their parents and elders to honor them and seek their blessings.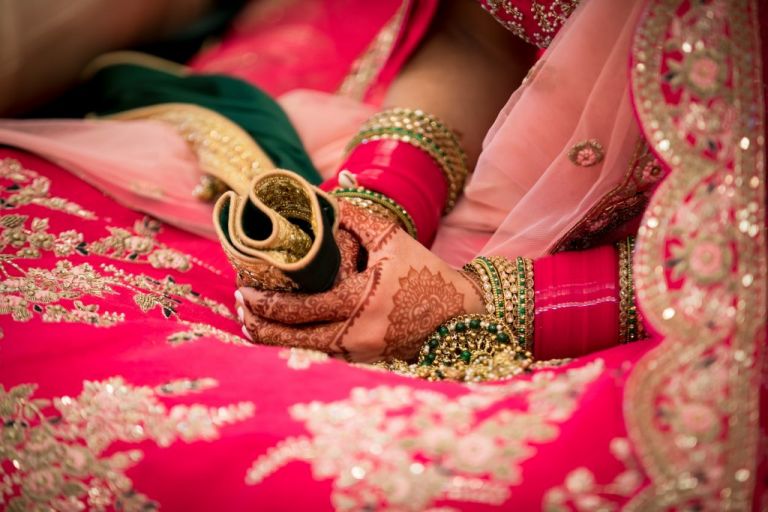 To conclude the wedding, in Sikh weddings in particular, the couple will tie their Dupattas together and walk in tow four times around a sacred text signifying their acceptance of each other as well as their commitment to making this text the central part of their life together.
San Diego Punjabi Indian Wedding Reception
Now comes the elaborate reception! A lavish reception party is thrown by the groom's family in honor of the newlyweds. Delicious food, festive music, and immense joy can be felt throughout the hall. The occasion is filled with loud drumming and horns blowing as the guests dance traditional classics as well as modern Bollywood steps. The couple enjoys the festivities either on the dance floor with them or on top a stage a fixed with thrones or couches. The ornate setup is meant to show opulence and give good luck to the couple financially. 
A Western End to an Eastern Tradition
Simon and Prabh, a more modern couple, continued their wedding week with a Western-style ceremony and reception the Sunday following. This wedding ceremony was meant to pay honor to Prabh's more Christian faith. The couple tied the knot at Los Willows Estate in Fallbrook, California. Prabh wore a gorgeous Western-style ballroom gown from Luv Bridal. She opted for a simple veil, to let her beauty shine bright as a diamond. She brought in her precious bangles as a nod to her Eastern heritage. What a beautiful choice!
Nestled among willow trees, Simon and Prabh exchanges vows before a priest under a beautifully decorated arbor. The sun set behind them as they modestly kissed and began their journey once again as husband and wife. All decor and florals were provided by Bombay Event Rentals. 
Inspired?
Still in need of an event or wedding planner for your Hindu or Punjabi wedding? Contact us today for a free consultation regarding your event needs or read one of our other amazing cultural blogs to get inspired! We look forward to hearing from you soon. Dhanyavaad!