A Top San Diego Event Planner Shares Ideas for an Elegant Engagement Party
Looking for a top San Diego event planner for your next engagement party? Look no further than Ivory & Lace Creative Weddings for your next fete! For engagements specifically, we love when family and friends can come together to celebrate the love in the air.
As a top San Diego event planner, I love to take the vision of my couple's and elevate it to an elegant version. I love to show my clients what their vision could look like at the next step up. This also helps educate them about how much each décor item or style costs. Which my couple's find immensely helpful. 
Bang For Your Buck Florals
Utilize your money where you want it to count most. For most of our clients, this usually lies in small details like stationary, linens, gifts, and / or confections, or even as broadly as florals. When designing this engagement party, our coupe wanted moody florals to match. The warm tone of the season. It was the winter, and the venue had lots of log accents. We chose a variety of blush, burgundy, and cream blooms to bring in the hearty feeling of the season. Modern gold geometric candle holders nestled cranberry colored pillars to add some much-needed romance and illumination. But we didn't stop there! We even filled some gold geometric pillars with berries and blooms for a twist. 
Now That's a Sweet Plate!
Another great attribute to a beautiful plate is the perfect stationary. We love companies like Cades & Birch and Paperdoll Invitations here in San Diego to help personalize any and all of your guest gift / stationary needs. Look at this perfectly matching burgundy menu. We knew that a tall thin menu would be the perfect star on top of these gold rimmed plates and modern gold foil cutlery pairing.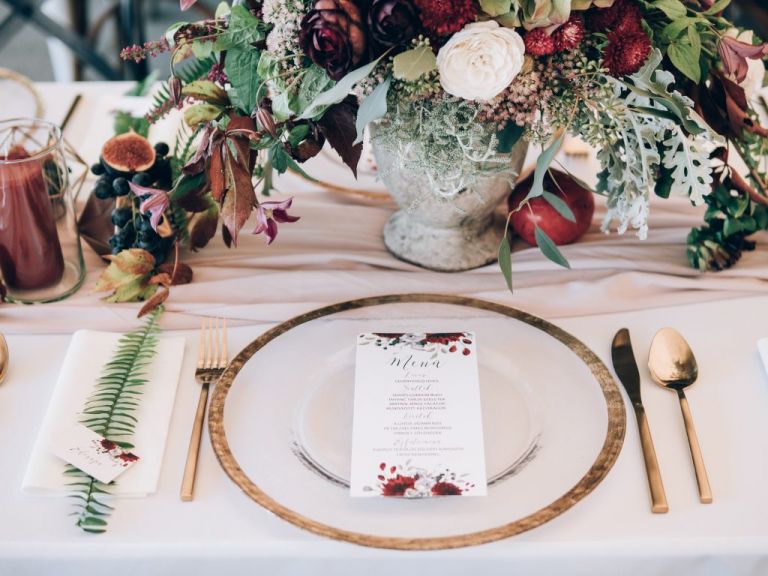 Our Couple also opted for a small dessert display, so as to not make it feel like a mini wedding. French profiteroles and pastries were a great accompaniment to the dinner—which guests could graze from at any time (after the photographer took a photo of course!). We paired this entire look with an ivory linen and a blush runner, crumpled up in an ever-so-romantic look!
Inspired?
Still looking for some help planning your San Diego engagement or event? Contact us today for a free consultation and see what the buzz is all about. Or read one of our other amazing California wedding blogs! We can't wait to hear from you.