Do you want to Celebrate your Wedding like a San Diego Celebrity? Don't worry my pet—the perfect answer lies roughly 80 miles south, in the splendid city of San Diego.
The laid-back sister of Los Angeles, San Diego is the home to hundreds of fabulous wedding venues. It all depends on the style and design you're looking for. Furthermore, you must raise the amount of money you're willing to drop. Maybe don't take it from me! Read on to see how you can have A-list events just like these native San Diego celebrities!
Drew Brees Feels the Breeze at his Famous Coastal Wedding
Coronado, CA
Drew and Brittany Brees tied the knot in an ultra-secret ceremony on Coronado Island. As San Diego's "Crown Jewel," Coronado boasts some of the ritziest venues in Southern California. With Brittany's classic taste and Drew's San Diego roots, Coronado seemed like an elegant fit for the couple's luxury nuptials.
We can only speculate on where the couple actually tied the knot. Venues like the Hotel Del Coronado or Loews Coronado Bay Resort make for a magical celebrity-style wedding.
The Del has undergone only minimal remodels to keep its original charm and appeal. Even today, it is considered the premier Southern California playground for the rich and famous.
Most noteworthy, at the Del is also one location where you can actually get married on the sand. Their private beach offers a large enough space for almost 800 guests! With plenty of security to keep those pesky beachgoers out of your pictures.
Although getting married at this upper-echelon venue is in high demand, it also comes at a pretty penny. Their world-famous Crown Room comes with a food and beverage minimum anywhere from $14,000-$100,000. Yikes! The couple whose heart is set on the Del can easily expect to pay four times that. However, that's the cost to pay to have a completely finished looking wedding suitable for the Crown of Coronado.
Jason Mraz is Seeing Stars with His Naturally Upscale Nuptials
Mechanicsville, Va
For this San Diego native, romantic crooner Jason Mraz resorted to an architecturally stunning, nature-embracing venue in Mechanicsville, Virginia. We forgive Jason for turning elsewhere for his high-end celebrity ceremony and reception; but can't help but argue in defense of San Diego's own unique, luxurious, nature-inspired venues.
If you are looking to celebrate like a celebrity in San Diego at a high-end wedding venue, look no further than La Jolla. The Hilton La Jolla Torey Pines Resort, La Valencia Hotel, and Estancia Resort and Spa are all great options. They are designed in the rich, historical lavishness of classic Spanish Colonial architecture. Plaster motifs and hand-painted tile peak out through their jungle-like gardens. Nature can't help but call when you book your wedding at these high-end venues.
A notable standout among the La Jolla gems is La Valencia. La Valencia has established itself as a hideout from the hectic pressure of the hustle and bustle of Los Angeles.
The attraction of the rich and famous to La Jolla's giant Pink Lady is undeniable. But don't fret, this lady doesn't bite! Don't let the minimum $10,000 site fee scare you. This venue is perfect for your celebrity-inspired ceremony!
You don't need to add much to these beach beauties to make your special day perfect. However, many couples go all-out when decorating their lavish celebrations. Springing for full flower arches, high-end rentals, and customized touches are common at these fetes.
Jason Mraz is not be known for his lavish lifestyle. But every bride wants to feel like a princess on the day of their wedding. So skip the Rainbow Sandals, and suit up for your extravagant event at the wonderful venues of La Jolla, California.
Popular Cameron Diaz's Ties the Knot at a Posh Private Party
Beverly Hills, CA
Cameron Diaz, a San Diego gal from the beginning, has always had eclectic taste—both in life as well as men! But don't let her wild side fool you. Cameron Diaz and her husband Benji Madden opted for a posh party at a private estate in Beverly Hills, California.
We recommend a secluded event in one of California's most prestigious neighborhoods for the reserved couple.
Rancho Santa Fe, home to celebrities and billionaires alike, is San Diego's premier location for high-end weddings. Recreate the term "block party" by adding some Nuevo-Riche spins to some classic standards. We recommend the venues the Rancho Valencia Resort & Spa or the Inn at Rancho Santa Fe.
This extravagant resort offers the concierge service of a large-scale hotel, but the intimate amenities of a private residence. With over 30 luxury villas and casitas on site, this property treats every guest like an owner—nay, a king!They pride themselves on their utmost level of service—servicing every guest desire imaginable.
This magical venue offers enchanted gardens with lantern-lit pathways. The price of this gem can cost you as much as $400 per head, but we promise… it's absolutely worth it! Despite Cameron and Benji's rock-and-roll edge, this venue is begging for an A-list couple like them to tie the knot!
Tony Hawk Famously Elopes in an Opulent Irish Mansion
Limerick, Ireland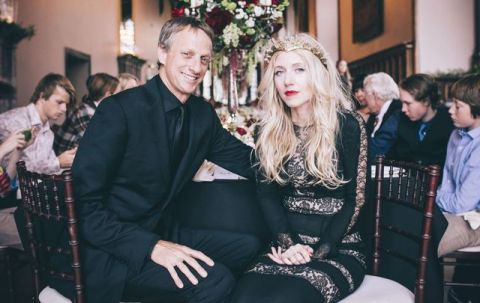 Legendary San Diego skater, Tony Hawk trekked all the way to the Emerald Isle for his high-end gothic nuptials. Tony and Cate splurged on an ancient castle-like manor nestled in the rolling hillsides of Limerick. But you don't have to fly quite as far away to achieve that romantic medieval look.
Straight from Dijon, France, this 17th Century Estate was LITERALLY IMPORTED BRICK BY BRICK. Cal-A-Vie Health Spa is a 500-acre vineyard on top of the sun-drenched hills of Vista. Cal-A-Vie offers an unforgettable experience at this award-winning destination venue.
The Medieval Chapel and Parish Home are the perfect backdrop for your over-the-top fairytale wedding. Couples who get married at the elite Cal-A-Vie are welcomed with spa treatments, wine tastings, and privately catered meals. Most noteably, Gwyneth.Freaking.Paltrow herself even raves about this Spa and Resort.
If you want to dance the night away feeling like literal royalty, then Cal-A-Vie is the perfect venue for you. Imagine walking into your picturesque wedding. It is complete with polished silver candelabras, velveteen thrones, and thousands upon thousands of dollars' worth of flowers. The base price for a fantasy fête here begins at $55,000. Therefore a fully dressed event can begin to dance around the perimeter of a cool quarter million.
Celebrate Your Celebrity Wedding in San Diego Like RuPaul's Prestigious New York Event
New York City, NY
The wedding of RuPaul Charles and George LeBar is absolutely an event worthy of a queen. Even though this son of San Diego opted for a private ceremony in Manhattan, we love him. Furthermore, we can still dream of the posh celebration thrown by this Glamazon.
For those more daring couples willing to shell out a few bucks to make a statement about panache, read on. Some other unique venues around town are The New Children's Museum and the Museum of Contemporary Art.
The New Children's Museum is the perfect home for anyone who is young at heart.
The museum boasts three floors of contemporary art and architecture, perfect for couples wanting to highlight their inner creatives. This art space can be rented for intimate parties as well as full-blown bashes. They allow you to rent out the ENTIRE museum.
This property offers a distinctive opportunity to couples ready to get hitched. It has a lower end cost but comes with almost NO AMMEITIES. If you want your night done right, expect to drop a cool $50,000 on outside rentals and vendors.
Fear not! Hiring a creative wedding planner will help you build the perfect event from the ground up. We can source the highest-end caterers, willing to cook outside the box for you and your guests. We can procure the most dynamic of photographers, adding to the artistic nature of the evening. And we can even masterfully design your wedding, no expenses spared.
Intrigued? Check out some other unique San Diego wedding venues. Ready to book your next upscale event? Contact Us Today!