Before you jump in and commit to your dream venue, remind yourself of these questions to ask a wedding venue before booking. Questions are important to ask in order to get the best information available when making your decision. You have no idea how many couples we get who don't know off the top of their head if servers, heaters, or dishware is included in their venue they already booked.
If you'd like a full list of questions to ask a wedding venue before booking, try Markel Insurance's blog on the subject for a printable list. But below is our boiled down best list of questions to ask a wedding venue before booking.
Basic Questions to Ask
Obviously the first two questions that will come to mind when booking a wedding venue is: are you available, and how much do you cost.
Ask the salesman about popular seasons their venue books to see what all the hubbub is about. Why do they book often during these dates? Are there discounts for less desirable seasons or days of the week? For pricing, venues usually offer a sliding scale based off of popularity and demand of the property. 
If a discount id more important than a date, go for a beautiful Sunday Winter wedding. Guests will still come no matter what day or season it is. 

Back to payment, how much is the deposit? What is the structure of payment schedule? What is your cancelation policy? What do you do if facing an emergency or natural disaster? How long before the event do we have to adjust the final guest count without being over-charged?
Going, Going, Gone!
Besides the basic questions like availability and price, you may want to learn more about their booking rate and how much time you have to make a decision without losing that desirable date. Ask the venue salesman how many inquiries they get a week to help judge how quickly you have to act on their property.
It would be a shame to fall in love with a property just to have it stolen beneath your nose the night before you were ready to commit. 
Sometimes, venues will offer a soft hold for off-peak dates. This could include a partial deposit or even just a signed contract if money is an issue at the moment. But this is a rare occasion. 
Walking the Property
Is the event space large enough to accommodate your guest size well—meaning it is functional AND comfortable. The last thing you want to do is smash 300 people into a 220-person occupancy ballroom. 
Does the event space include other items used for general guest comfort: i.e. heaters, tenting, umbrellas, air conditioners, or fans.
Be mindful of the season you're planning on having your wedding—judge weather and temperature accordingly. Guest comfort is key to the success of your wedding. What is your bad weather alternative?
Does wind or any other natural elements restrict the options of our creative layout—meaning can I put my cake wherever I want, or will the sun melt it in location X and the wind blow it over in location Y?
Where are the outlets! Where can a DJ or band hook up for the ceremony, cocktail hour, and reception? Does the property come with their own house speakers? DO we need a power drop for our vendors if it is completely outdoors? 
Configuration!
What does a normal configuration of a wedding your size normally look like? Where can we expect to put the DJ, the cake, the sweetheart table, and the guests? What are the best locations for pictures of these detail shots as well?
If we are bringing in some outside vendors with large trucks, can the driveway and load-in area accommodate these vehicles. Be mindful of the location of ay food trucks or other outside caterers who may need extra space to prep and serve food. This could throw a wrench in your venue aesthetic if their pop-up tent only works by the front door. 
Are there any noise restrictions in this area or at this venue? How late can my party go to? Is the site fully handicap accessible? Are there enough bathrooms for my guests? What does parking look like on the day of the week for my wedding? Do we need to plan for a valet service?
Vendor Restrictions
Do you have a list of preferred vendors? Are we able to choose other vendors not on this list? Which of these preferred vendors are we required to choose from? Do we need to have our vendors provide proof of insurance? Are we required to have a day-of coordinator? What are my vendors allowed and not allowed to do on property?
Let's Talk the Day-Of Logistics
What are the benefits of having your wedding at this venue? How long do you have vendor access as well as personal use access to the property? You would hate to be blindsided by a venue who is open to the public until 12:00pm, leaving you ostensibly less than 4 hours to get yourself and your maids ready on site. 
For staffing, who all is included in the venue rental? Is it a full-service property—with chefs, waiters, bussers, and bartenders? Or is this property just the event space.
If they only include a limited amount of staff and you need to turn over the event space from ceremony to reception during cocktail hour, will they help set-up? If they do not, how early can your family, planner, or vendors arrive to set-up in the morning strike the event in the evening?
Who cleans up at the end of the night? Are we responsible for taking the trash out/off property?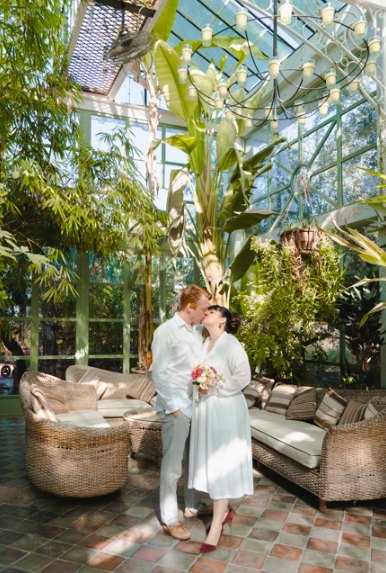 Need Assistance Asking the Big Questions on Your Walk Through?
Ivory & Lace Creative Weddings is here to help you 100% of the way; from venue-selection to napkin folding! Don't hesitate to reach out to one of our experienced staff members who can better assess your wedding needs when it comes to planning your big day. We know all the questions to ask a wedding venue before booking, as well as all the questions to ask afterwards. Read more about some of our favorite San Diego and Palm Springs wedding venues here!