Beach Weddings in San Diego
So you want to know how to have the perfect San Diego beach wedding in California. Consider things like your attire, the weather, and the comfort level of your guests before whisking your group away to a sandy beach. Don't fret! These helpful tips are geared at making sure your big day is as beautiful as the shoreline you chose. Photos provided by Shelly Anderson Photography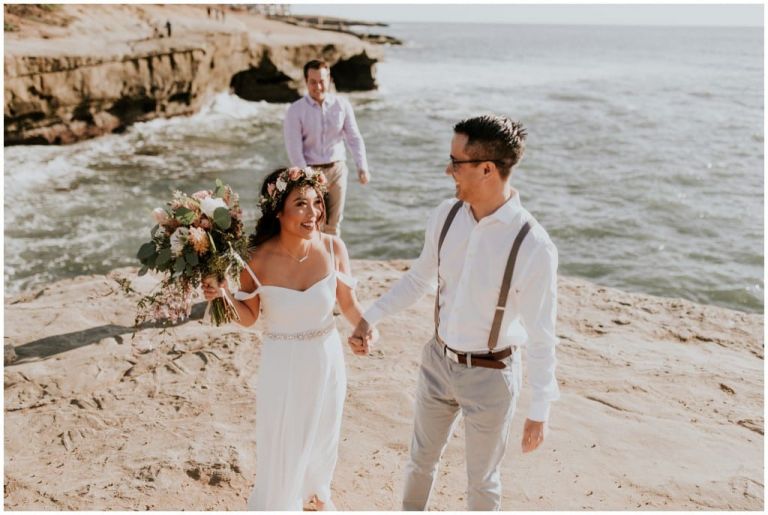 The Perfect Beach Wedding Dress
You can't have the perfect coastal wedding without having the perfect beachy look. Easy, comfortable and breathable clothing choices are the best way to go.
When considering the many options for your beautiful San Diego beach wedding, keep the environment in the forefront of your mind. Sand, wind, and water are all real elements to consider when choosing the right dress, tux, or shoes.
Keep dresses breezy and ethereal. Sheath dresses, empire-waisted gowns, and flowy fabrics are a girl's best friend. Not only do they look appropriate to the surrounding, you'll be able to move easily on the sand. Long trains and princess gowns may be the right look for a castle or ballroom but may not necessarily belong on the beach. Worry not though! If a large ballroom gown is still a part of your dream beach wedding, consider one that bustles easily to help aid in movement.
Shoes, on the other hand, are a hard obstacle to overcome. The immediate go to for beach shoes are either choosing flats or going barefoot. Sand can get messy and make you look traction, possibly causing you to trip on your way down the aisle. No one wants to be constantly thinking about the nagging pebble caught in their Prada pumps, or god forbid make the dastardly decision to wear stilettos down the aisle!
The Perfect Beach Wedding Accessories
Should you wear a long flowy veil? Probably not. Wind speeds at the beach are hard to gauge if you're not a meteorologist. Trust in your local planner's opinion about weather and go from there, if they say that the winds fair well on that particular beach, maybe a veil is a safe choice; but overall, the wind may keep it wiping you in the face throughout the whole ceremony. Opt out for a smaller birdcage or blusher veil, or better yet, a fun headpiece.
The Perfect Beach Wedding Menswear
For the more suit-leaning folks, avoid multiple layers. It can get hot here in San Diego during peak seasons like summer. So, look for breezy button downs, casual vests, and lighter fabric pants. Linen may be more prone to wrinkling, but that's nothing a little ironing can't fix! As for menswear choices, loafers, boating shoes, and sandals are a solid choice as well. This will keep the look casual and comfortable which is likely what drew you to the idea of a beach wedding in the first place.
The Perfect Beach Wedding Beauty
To continue the simple and casual feel of the sea, opt for simpler makeup and hair. Look for a natural look with a classic feel. Nude or peachy palates are popular among the sea-side brides because it stays in tune and doesn't look out of place.
Layers of makeup and multiple false lashes may make you feel like a bombshell, but the humidity of the air near beaches can often leave a face full of makeup gunky and dewy. Setting sprays will be your friend regardless of what look you choose for your big day. This will keep the ocean mist from smudging that beautiful face,
Hair on the other hand could be trickier than makeup. Depending on the length and texture of your hair, you could go a few different ways. If your hair is fine or hard to control in humidity, think of tight updos or braids. This will add an element of control in unpredictable winds. If your hair is thick, try a natural look that's pulled away from your face. This way you can shine like the beautiful mermaid you are!
The Perfect Beach Wedding Ceremony
First and foremost, for both ceremonies and receptions, you MUST research into the possibility of getting a permit to get married or have a reception on a beach—especially if it's a public beach. In San Diego there is only one location that has their own private beach—meaning no pesky tourists will end up in your pictures. Once you have that covered, or at least considered, continue on to get some amazing design inspiration!
The theme of this article is going to be simple and natural with minor elegant touches. The ocean is a majestic thing and shouldn't be overstaged by lots of specialty rentals or décor items. Granted, a beautiful chuppah or arch with tropical flowers is appealing, sometimes all you need is some friends and the sea. If you want an over the top beach wedding look, try looking for clear acrylic chairs, thin wooden arches or canopies, and streamlined silhouettes—so as to not detract from the view of the ocean.
When choosing a color palate, draw your inspiration from the colors of the sea, sands, shells, and stones naturally found along the shore. Peachy pinks, soothing yellows, lush creams, and all the blues you could imagine are perfect options for a beautiful coastal wedding.
The Perfect Beach Wedding Reception
Having a large reception on the sand is going to be tricky. Look for venues that have oceanfront views as well as actual amenities to keep guests happy. You'd be surprised how a guest loves a private bathroom in comparison to the public ones at the beach.  Luckily, San Diego has MANY incredible venues that offer sweeping mar vistas, tropical vibes, or clean coastal décor. Consider the La Jolla Beach and Tennis Club, which is Southern California's ONLY private beach venue. The La Jolla Beach and Tennis Club has 14 gorgeous acres of landscaped grounds and oceanfront property. It is a versatile location with both indoor and outdoor reception areas for you and your guests. Their packages are also extremely customized and expansive, so when having a wedding at the LJBTC, you know you are in safe hands.  
The Perfect Beach Wedding Dinner
When choosing vendors for your big day, think about staying local and relevant to your themed bash. Fish is always a great choice when choosing a meal for you and your guests. You could also go the road of more tropical fare and include fruit trays or an oyster bar. Beware of companies that outsource their food, though. Look for the vendors that choose freshly caught local fish or nearby farm-friendly fare. 
As for confections and delicious desserts, this is where you could really get creative! Continue your color palate with blues, whites, and pinks and surprise your guests with a fully colored cake! Light sponge with tropical filling is the perfect answer for your end-of-night snack. 
Looking for the Perfect Wedding Beach Planner in San Diego?
You've come to the perfect spot! Ivory & Lace Creative Weddings has the experience and know-all to help you navigate the seas of your wedding to learn how to plan the perfect beach wedding. Contact us today or read more about some of the other amazing venues in San Diego.