Are you looking to have the most fabulous wedding of all that your guests will rave about for years to come? Well look no further, we have created the perfect guide on how to have a glamorous Gatsby inspired wedding. We love the aesthetic of a Great Gatsby wedding. This timeless theme can be done during any time of the year. It's full of glitter, cocktails, champagne and everything gold. A little party never killed nobody, so let's get down to it!
The Perfect Gatsby Inspired Wedding Attire
When it comes to a glamorous wedding such as this, you can have loads of fun putting together your outfit for the big day. There are a couple of different routes you can take when deciding on a dress. You can go for a something with beautiful beaded embellishments, or even something with a whole lot of sparkle. Just embrace your inner Daisy Buchanan for the day. We suggest doing a black or white suit and tie for the men. This will add a classy touch to your attire scheme. For the bridesmaids, think about various gold toned glitter dresses. Your bridal party is sure to look elegant and dapper standing by your side. Make a statement with your accessories by adding a fun headpiece. Try a beaded headband, or one with some fun feathers. You can even add a sparkly art deco inspired hair clip. For a wedding during the Fall or Winter season, throw on a giant fur shawl to really embrace the flapper girl look.  As for the shoes, we think a vintage sparkly heel will look fabulous.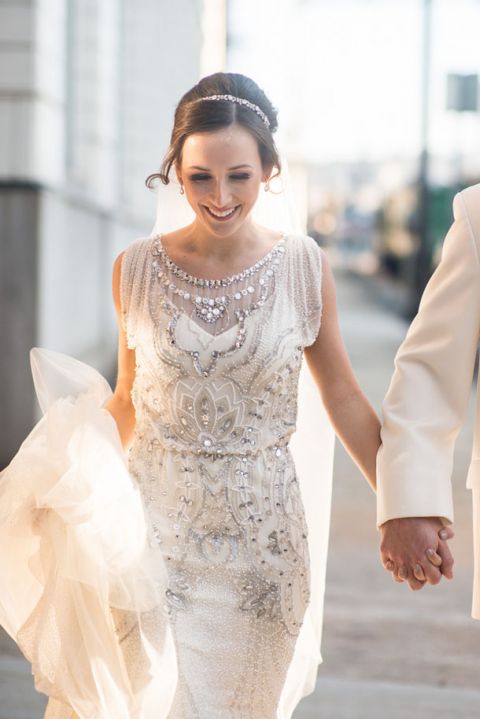 Glamorous Retro Florals with Luxurious Touches
The floral arrangement options for a Gatsby inspired wedding are endless. If you are leaning towards a more elegant vibe, adding some pretty white feathers to an arrangement will do the trick. They also add wonderful texture to it. If you are trying to fully embrace the Gatsby lifestyle on your big day, add a diamond embellished brooch to the stem. We typically associate elegance with the traditional round symmetrical bouquet since it has a cleaner look; however, you can still incorporate a wild cascading bouquet with your Gatsby themed event. Neutral colors and deep green hues will look fabulous with the gold and glitter details. Now, let's talk bridesmaids' bouquets. Think about swapping out a traditional bouquet, and instead giving your gals some feathered hand fans. It's a unique touch and your bridesmaids will be able to keep them as a memory from your big day. As for floral centerpieces, gold vases with feather bouquets are definitely Jay Gatsby approved. 
An Exclusive Gatsby Invite
Need to learn how to have an exclusive design for your wedding with a glamorous Gatsby inspired wedding suite? The great part of a Gatsby themed wedding is all the fun designs you can incorporate into the event. When it comes to your invitations and stationary, an art deco scheme is perfect. Use bold lines and gold detailing to depict a timeless elegance. Just take a look at the Great Gatsby movie poster for some design and font inspiration. Use colors such a white, gold and black for a strikingly modern look. Go all out just like Jay Gatsby himself and tie the invite in a gold ribbon. Your guests will feel like they just got invited to the most exclusive event of the century. It's the perfect finishing touch! 
Travel in Luxury like Jay Gatsby
Next let's talk transportation. It seems like a minor detail, but you can truly embrace the 1920's with this aspect of your wedding. There are so many wedding transportation companies that offer the most rad vintage cars for your big day. Whether it be for your grand exit, your bridal party transportation, or even just for show, think about a Duesenberg (just like Leo drove in the movie himself), Buick, Auburn, or an old Ford Model. Not only can this car act as your transportation for the night, it also makes for a great photo op in your Gatsby inspired attire.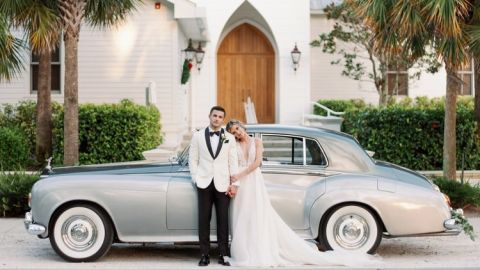 The Perfect Retro Glam Art Deco Cake
How do you incorporate the Gatsby inspired wedding lifestyle into your delicious sweet wedding treats? Easy, gold is your best friend! Look at other art deco cakes for inspiration.  Nothing screams 1920's more than a modern geometric cake design.  You want your wedding cake to be bold. Think about using sleek textures.  If you are more into the glitz and glam, have one layer of the cake be nothing but gold sparkles. Go all out and get an elegant cake stand to showcase the masterpiece.
Luxurious Gatsby Inspired Wedding Décor 
When it comes to décor for your big day, awe your guests with all the gold and crystal elements! For your table centerpieces, use tall gold vases and crystal votives. The more textures and height variations on your tables the better.  It's not a Jay Gatsby event without a whole lot of champagne, so why not opt out for a champagne tower. It'll double as a drink serving station, décor element, and a fun activity for the bride and groom. Place timeless vintage pieces such as bar carts and typewriters for an added 20's effect. We love the idea of having guests type a note out for your guest book. Use quotes from the book and movie on the décor signs and escort chart if you want to feel as if you are starring in the Gatsby movie. 
Luxurious 1920's Tablescapes
When it comes to your tablescapes, you can use colors such a black and gold. If this is too dramatic of a color palette for you, use various white and ivory tones with a hint of glitz and glam. Use art-deco chargers, placemats and plates to really add to the 20's vibe. Greenery trains and bouquets will look great with these colors of choice and really stand out. Use vintage 1920's typography on your menus and table numbers, and strong geometric lines to evoke a bold vibe. Use gold cutlery if you are really feeling grand. Give your guests a little Gatbsy gift to rock the rest of the night by placing a string of pearls or fedora hat on each place setting.
A Sophisticated Glamorous Gatsby Inspired Lounge Area
When you are thinking about a photo station area for your glamorous Gatsby inspired wedding, a lounge area is a perfect choice. Not only will it be a nice sitting area to relax and chat, but it'll be the backdrop for a swanky 1920's cocktail party that your guests will love to snap photos in front of. When it comes to picking out rentals and setting the scene, go for bold colors. Try an all-black velvet couch, or a couple of deep emerald green chairs. Add velvet, plush, furry, or sequenced pillows to the seating. Make sure you embellish the area with gold and crystal décor. Focus on vintage rentals for this space. Have a few champagne bottles ready to pour with some glasses set around the table as well. Now it's time to party like Jay Gatsby! 
Ready to Talk?
Need help learning how to have a glamorous Gatsby Inspired wedding? Contact us today at Ivory & Lace Creative Weddings. Our amazing staff has the perfect design eye to help make your 20s-Inspired event roar with excitement! Read more about some of our other wonderfully themed luxury events, like how to plan your perfect upscale beach wedding.