Looking for unique wedding venues in Orange County for your next nuptials? Look no further. Orange County is quite the tourist destination, and for good reason! It is home to many lovely beaches, parks, outdoor activities, delicious food and perfect weather. From the famous Disneyland Resort and Knott's Berry Farm to Huntington Beach and Crystal Cove Park, this county has it all! It is the epitome of SoCal living and the perfect place to have a wedding celebration.
Especially during the Spring and Summer months. Orange County is full of the coolest and trendiest spots for you to say, "I do". We have gathered a list of the most unique locations for you and your loved one to check out for yourselves! 
1 | Rancho Las Lomas 
First up on our list of unique wedding venues of Orange County is Rancho Las Lomas. You may be thinking, what is so special about a ranch wedding? Well, this is not just any ranch. It is actually a private resort and zoological garden nestled in the foothills of Silverado, California. This space was purchased almost forty years ago by Rick and Jeannie Lawrence.
As folklore tells, the Lawrence family apparently acquired the land by betting on a horse race. If you are looking for a beautiful and private estate, this place is perfect for you. Old sycamore and oak trees tower over the property, hiding it from the outside world. The Lawrence's are quite the collectors and have restored the buildings using recycled materials. On your tour, you would see old doors, windows, bricks, hand-painted tile murals from Portugal, stained glass windows, grand gates, and 100-year-old Pasadena street lamps. It has that old school charm but with a Spanish-inspired twist. Now let's talk about that zoological garden!  
Rancho Las Lomas is home to residents such as Bengal tigers, zebras, the cutest dogs, roaming peacocks, and many more. If all of that is not enough, the venue also offers three different breathtaking wedding spaces for you to choose from.
The El Teatro is an open-air theater nestled under the trees. It features a marble stage which is the perfect setting to exchange your vows. Hand-painted tiles and murals really turn this place into the most enchanting oasis.
The La Terraza is the most romantic and greenery-filled space at this venue. Its' large open area, cobblestone driveway, surrounding native cactus, and grand staircases will take your breath away!
If you are looking to have a more intimate occasion, the Grand Salon is perfect. This room features a stone fireplace, those stained-glass windows, and French doors. Your guests will feel oh so cozy! 
2 | Richard Nixon Library
Calling all book worms! If the idea of getting married at a library, museum, and burial site of a President excites you, then look no further!
The famous Richard Nixon Library is built on nine beautiful acres of land. It is full of rich history and is the perfect setting to create that timeless elegance vibe your guests will never forget. Exchange your vows at the First Lady's rose garden, the reflecting pool, or the quaint Birthplace cottage surrounded by pepper trees at this unique wedding venue in Orange County.
Host your reception and dance the night away under stunning chandeliers in the one and only replica of the White House East Room. The Italian silk drapes, marble fireplaces, and gold Versailles chairs will leave you and your guests feeling like royalty…or in this case, Presidential! The Richard Nixon Library is suitable for all sizes of weddings: from intimate gatherings to weddings with 400 people. It is sure to be a one of a kind affair full of rich history.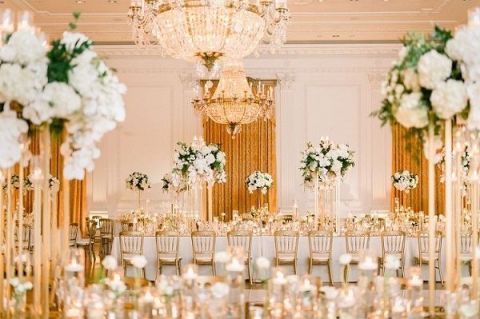 3 | The Colony House
Next up on our list is the Colony House. This venue is owned by 24 Carrot, one of Southern California's most prestige event planning and catering companies.
This space is an interior design lover's heaven! Centrally located in Orange County, this space is right near the Packing District, Disneyland, and Pearson's Park. It's a prime wedding spot to keep your guests entertained all weekend long! The best thing about The Colony House is that it is extremely versatile.
They offer a variety of different styles inspired by many architectural influences here at this unique wedding venue in Orange County. The venue is perfect for anyone looking to go all out and invite everyone and anyone. It can accommodate up to 500 guests, and each room can be customized to fit your needs. 
 The Colony House believes that your wedding space should be like a home: an inviting and welcoming space where people make memories together. The filament lighting throughout the venue gives off a warm and cozy vibe your guests will adore. The Colony House loves to let your imagination run wild. The more unique and creative, the better!
The venue has four different rooms to choose from; you can also utilize more than one for your big day if you desire. The Great Room, the center of the house, is a lovely area featuring exposed brick wall and all the wood accents you will love. Its' elevated stage is the perfect place to exchange "I do's".
Overlooking The Great Room, we have The Loft. This space is perfect for the modern couple. It has magnificent wall-to-wall windows, and the trendiest private bar area. Looking to give your guest some fresh air? The Patio, right off The Great Room features a natural living wall with succulents, a cozy fireplace, and café strung lights. It is the ideal place to exchange some great conversation while sipping on some cocktails.
If you want to have a fully outdoor wedding, they also offer a backyard area which can be fully transformed into your perfect tented venue. Along with your venue rental at The Colony House, you will get tables and industrial style chairs. Upgrades are also available if you want to get your hands on some of their great linens, flatware and decor. You'll love The Colony House and all of the stylish, rustic, chic charm that comes with it!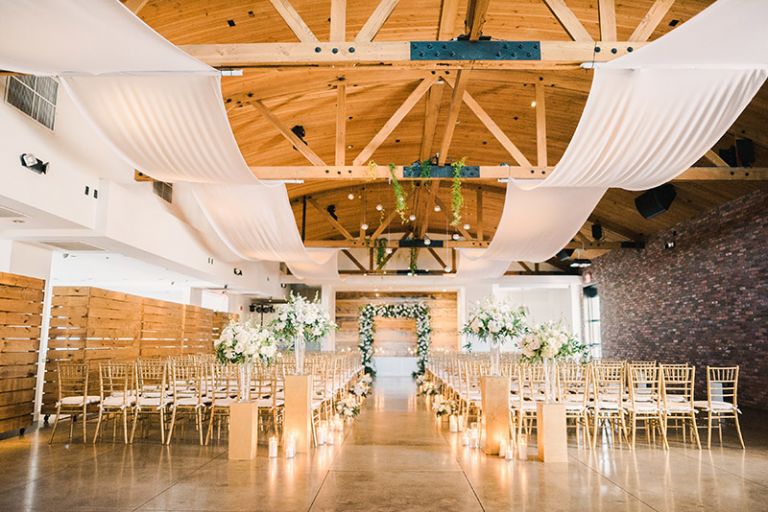 4 | Heritage Museum of Orange County 
Home to the H. Clay Kellogg House and John Maag Farmhouse, this museum's mission is to preserve and restore the heritage of the City of Orange County.
Located in the city of Santa Ana, this historic home has an old-school country charm that you will love. The Victorian style construction is the perfect backdrop for your big day. This venue is centered around a historic plaza, with lush green lawns surrounding it. The museum's eleven and a half acres of private land is covered with gorgeous buildings and magical gardens.
This venue can accommodate up to 650 people for an outdoor occasion. If you are having an intimate gathering, there are indoor spaces to utilize as well.
Hold your ceremony on the Gazebo Lawn with the Kellogg House as your backdrop. The charming gazebo will be a perfect photo-op space for both you and your guests. Walk on over to the Pavilion for your reception and admire the surrounding rose gardens and citrus groves. Your guests will love touring the house and you will get amazing picture opportunities you will never forget!
Your Heritage Museum of Orange County rental will also include their delicious menu options, and referrals to some of the best vendors in the area. Come experience some rich cultural heritage while marrying the love of your life! 
5 | The Hacienda
If you are looking for a venue with a little Santa Fe flare, The Hacienda is perfect for you. Built in 1901, this venue was originally an orange and avocado ranch estate. It now serves as an event and wedding space, with the original adobe house and beautiful courtyard.
The adobe house serves as a homey space with the perfect cozy ambiance for the bride to get ready on her big day. The garden courtyard is the most popular space for couples to get wed. You'll fall in love with this natural setting and its' wrapping trees, twinkling lights, flourishing flowers, romantic fountain, and the overlooking balcony with ivy.
If you are looking for something indoors, the Taos Room is a Santa Fe style ballroom with a two-story fireplace making for the perfect ceremony backdrop. Imagine the bride making her grand entrance down the beautiful staircase. It is like something out of a fairytale! The Southwest style bar features traditional artwork will add an exquisite touch to any wedding event.
The Hacienda offers a unique setting, with its' Spanish architecture and red tile roofs. The best part? The venue has an awesome wedding package that you won't find anywhere else. Their package includes the grounds, a live pianist for your ceremony, floral decor for the chapel area, their awesome catering service, select drink options at the reception, floral centerpieces for the tables, linens, flatware, a delicious wedding cake, cookies placed at a hot chocolate station, servers and bartenders. Now that's what we call all-inclusive, for a unique wedding venue in Orange County.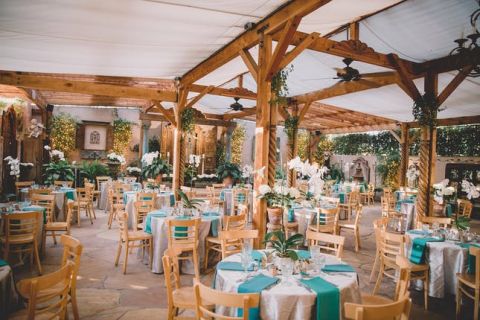 Interested in Finding the Perfect Venue?
Learn how to find perfect unique wedding venues in Orange County as well as in San Diego, Los Angeles, and Riverside on our blog! Ready to speak to someone about getting wedding help? Contact us today at Ivory &Lace Creative Weddings to get the help you need during this laborious process.