Desiring something more creative and unique? Learn with us on how to have a vintage San Diego circus wedding!
As trends move away from light and ethereal blushes and ivories, we enter into a new era of fashion that is darker and moodier. Inspired by this moody vibe, I decided to put together a vintage San Diego circus wedding styled shoot.  Fun fact: the name for an individual who is new to the circus life is called the "First of May," and coincidentally, this amazing styled shoot I was a part of was shot on May 1st, 2018. I would like to thank all of my incredible vendors for helping pull of such a creative and unique styled shoot—I couldn't have done it without you!
Producer | Mosaic Bride Magazine | @mosaicbride
Design & Coordination | Ivory & Lace Creative Weddings | @ivoryandlacecreative
Photography | Oh Lovely Wedding | @ohlovelywedding
Venue | Whispering Oaks Terrace | @whisperingoaksterrace
Florals | Wyld Blooms | @wyld_blooms
Dress & Accessories | D'Angelo Couture Bridal | @dangelo_bridal
Hair & Makeup | Faces by Frances | @faces_by_frances
Suit | Friar Tux | @friartux
Rentals | Folklore Rentals | @adorefolklore
Linens | Creative Coverings | @creativecoverings
Draping | Allie's Party Rentals | @alliespartyequimentrental
Lighting | Sterling Productions | @sterling.productions
Calligraphy | Shelby Creative Designs | @shelbycreativedesigns
Old Fashioned & Natural Wedding Venue
Nestled amongst the gorgeous oak trees of Pala, California resides a charming venue called Whispering Oaks Terrace. This property boasts unique rustic charm with winery elegance. I knew this was the perfect location for my vintage San Diego circus wedding shoot because of their incredible barn and antique trucks. This place screams vintage. The shade of the forest around us, only added to the incredible moodiness. Dawn Ashbrook and her staff run this family-owned venue with a casual attitude and tasteful design. It is perfect for any wedding!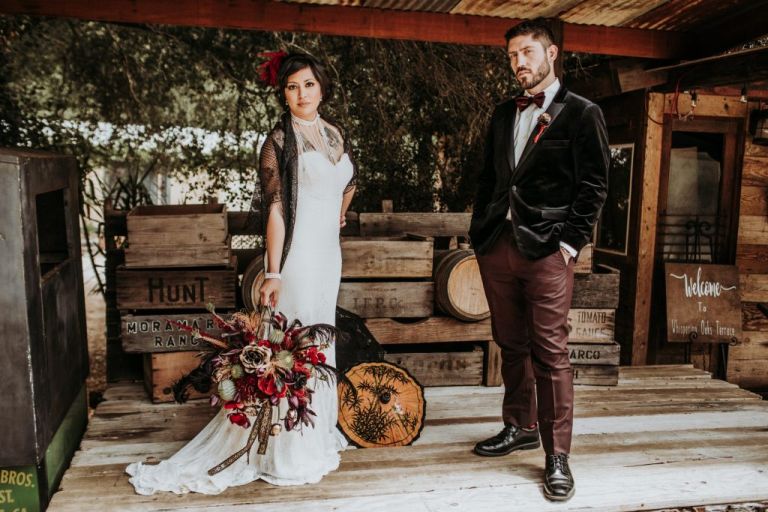 Antique Circus Wedding Dress
I knew I needed an amazing one-of-a-kind dress for this shoot, so I employed the help of Diane D'Angelo of D'Angelo Couture. Her dresses are individually styled and meticulously designed for every bride. I chose one of Diane's gowns that drew Victorian inspiration; a strapless ivory gown with striped lace, similar to that of an old timey circus.  My model fit easily into this comfortable gown with back zipper and illusion buttons. And walking was a breeze due to minimal train. I wanted my models to be comfortable and glamorous throughout the terrain of this rustic venue.
Vintage Circus Wedding Accessories
For accessories for this vintage San Diego circus wedding, I wanted to pair this gown with really unique items. We doubled up on hair accessories: an over the top red feather plum, anchored by a sparkly feather shaped pin. This gave a showgirl-feel to our model and matched with our darker red and purple color scheme. To add more drama, we added a handmade choker. This ornate piece includes multiple strands of pearls that flow over her shoulders creating an epaulette look—continuing the feel of the circus. It truly accentuated our model's beautiful neckline and the strapless nature of the dress.
Dark & Retro Wedding Beauty
For beauty, we employed the help of Faces by Frances. Her smoldering look included a beautiful smoky eye and natural lip. These made the natural beauty of our model shine through and added to the drama of the shoot. Her eyes were really the highlight of her beauty look. For hair for this vintage San Diego circus wedding shoot, we went with a beautiful curled updo; similar to the Victorian fashion of the time. I really wanted to pull the hair away from the face to emphasize the other elements of this look, like the accessories and the makeup.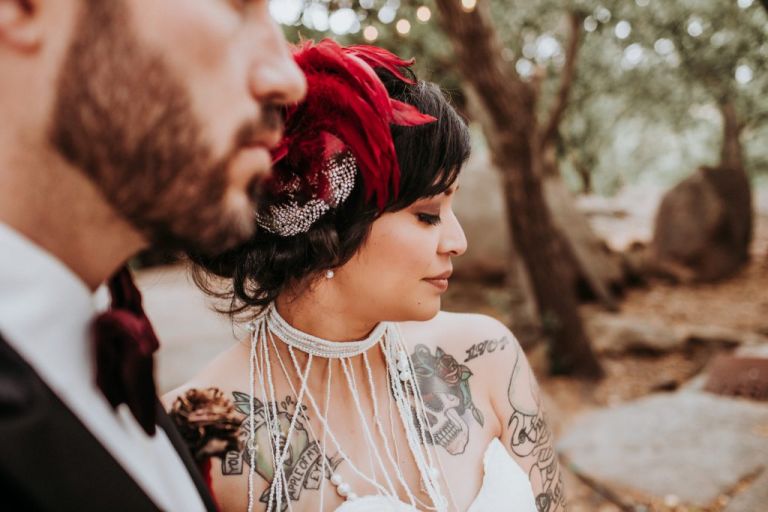 Victorian Inspired Wedding Suit
For our male model, I was all about texture and dark colors. We paired burgundy suit pants with a luxury velvet sport jacket. Although it was unseen. I also added some chestnut suspenders to match his brown leather belt and dress shoes. A textured merlot colored bow tie added to the vintage aspect of this shoot because it was more accurate to the Victorian time period I was going for. The model also brought along a vintage watch and cufflinks to add more authenticity to the shoot.
Moody & Antique Wedding Photography
I knew from the start that I wanted to work with Amanda Dugan of Oh Lovely Wedding Photography. Her moody and deeply saturated photos really pop in this day and age of wedding photography. It's not the norm and her pictures stand out. Just like the amazing skill of the talents of the circus, I feel that Amanda's artistic take on wedding photography is truly spectacular. I knew she'd be the perfect fit for this vintage gothic circus shoot.
Dark Vintage Circus Wedding Florals
Also a part of our incredible team was the amazingly talented Callie Salmon of Wyld Blooms. She took my inspiration board and truly made an incredible interpretation of circus florals. She was inspired by marionets when designing the bouquet. This pomander bouquet features succulents, pincushions, orchids, and spray-painted roses and tulips as well as feathers and Victorian embroidered ribbon. For the boutonniere, she continued the look with another gold frosted spray-painted tulip and vintage ribbon. No florals were featured as a centerpiece, but her bouquet was really the star of the shoot.
Gypsy-Inspired Wedding Linens and Tablescape
I wanted to make the table look like that of a fortune teller's, so I knew exotic and unexpected opulence was the way to go. I started with an unusual centerpiece: a crystal ball flanked with antique brass candles. To accentuate the eclectic nature of the circus, we mixed all of the rentals—the chairs, chargers, plates, and glasses. I wanted a hodgepodge of incredible vintage pieces, so we rented them individually from Folklore Vintage Rentals here in San Diego.
I wanted lots of fabric for my tablescape, so I layered incredibly luxurious linens from Creative Coverings. This company offers vendor to vendor shipped services for your planner or venue's convenience. Plus, they have hundreds of luxury linens to choose from! I chose to layer a sangria palazzo brocade round with a vintage inspired sequined broadway overlay. The sheer sequined-striped overlay was then bunched and pinned around the edge of the table to create a more opulent look. 
Creative & Moody Wedding Lighting
I knew from the beginning that I wanted to darken the lighting inside Whispering Oaks Terrace's barn and go completely inauthentic—like the stage lighting of the actual circus. Mark Davies of Sterling Productions was on board from the beginning. He knew initially that we would be doing alternating uplighting in purple and red over the velvet drapery we added from Allie's Party Rentals, and Mark surprised me with an incredible scrolling projection to add to the drama of the shoot. His magic truly brought the shoot together. Side note—the popcorn machine is also from Allie's Party Rentals, because no circus would be complete without some salty fun treats.
Vintage Circus Wedding Lounge
Adore Folklore also provided the luxurious lounge seating we set up in the barn. We included a massive oversized gold velvet couch, black cane rattan chair, extra-large trunk and rolling coffee table for our vignette. The couch mirrored the velvet we used in the groom's tux, and we piled it with vintage silk and tapestry pillows. Acting as a side table, the extra-large trunk sported antique styled umbrellas for added décor. I felt the cane chair was a great compliment to the couch because of its dainty nature—it didn't overpower the vignette and kept it from looking bulky. The rolling table reminded me of the pully systems used in the circus, so it had an antique industrial vibe to it. We finally made sure to add vintage Persian rugs wherever we could to keep the play on texture throughout the shoot.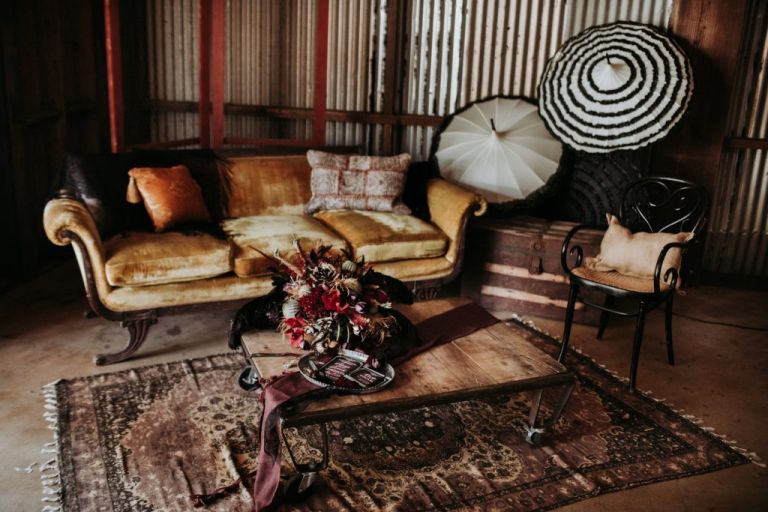 Antique Festival Wedding Calligraphy and Invitations
For stationary elements, we enlisted the help of Shelby Huber of Shelby Creative Designs. Her hand made invitation suite, menu, and escort cards, really added to the whimsy of the shoot. I gave her the names Anne and Frank based on famed circus couple, Annie Oakley and Frank Butler. She decided to create a gorgeous ombre card with vintage filigree border. She added a touch of opulence by opting to use hand-poured wax seals with custom monogram pressings to add to the look. Shelby also created signage for seating and escort cards for guests on matching black cardstock with hand painted filigree accents.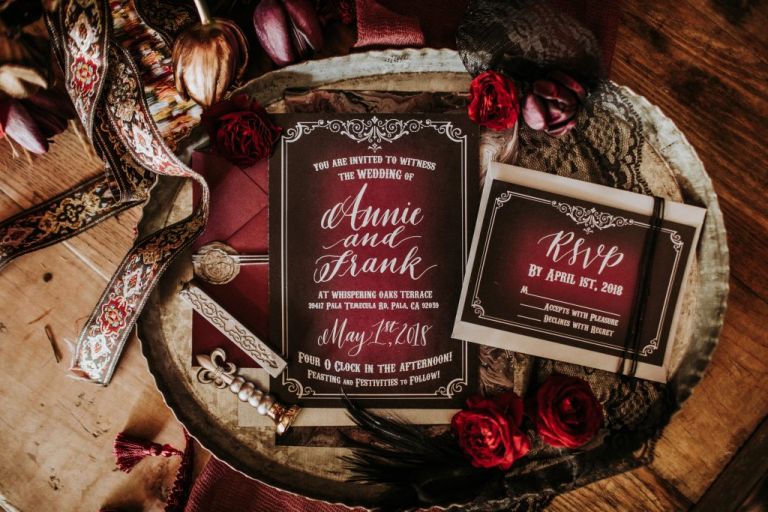 Victorian Circus Wedding Cake
And finally, what wedding would not be complete without cake? Karen Anderson of The Sweet Apron (a bakery located in Temecula, California) helped design a spectacular three-tiered master-piece for our event. A vanilla bourbon bottom layer coated with black fondant and matching black roses sits beneath a layer of black and purple striped chocolate cake, finally topped with an additional vanilla bourbon cake decorated with black airbrushed filigree design. Callie Salmon of Wyld Blooms added the dried birds of paradise and red spray roses for a more dramatic effect—creating an absolutely perfect gothic circus dessert for our vintage wedding shoot!
Looking for More Creative Wedding Ideas?
Learn more about creative venues here in San Diego and abroad, like our Bohemian Junkyard Wedding Blog, or our Unique San Diego Venues Blog. Contact us today if you'd like to speak with a wedding professional about your creative wedding ideas!