Are you and your loved one passionate about the arts and culture scene? Well, the unique wedding venues in Riverside county may just be the perfect place for you two to tie the knot. Many do not know what this city truly has to offer.
Otherwise known as the "City of Arts & Innovation", Riverside is full of some great history, architecture, culture and nature. Their downtown is booming with museums, famous sites, great food, busy bars, and concert halls. It is a wonderful setting for your big day and a great place to keep your guests entertained. We have done our venue research and found the best of the best for you to take a look at! 
1 | The Mission Inn
If you have ever been to Riverside, you have probably laid eyes on the famous Mission Inn Hotel and Spa. If you have ever been in the area during the holiday season, there is no doubt you haven't seen its' mesmerizing Festival of Lights!
The Mission Inn's Spanish architecture is absolutely stunning. You will be blown away by this 1977 National Historic Landmark. This historic building started in 1876 as an adobe boarding house. Since then, it has hosted many US Presidents and celebrities, and served as a Hollywood production site to quite a few films.
The luxurious boutique style hotel would make the perfect backdrop for your big day with its' beautiful arches and buttresses, magnificent towers and dorms, and secluded gardens. The Mission Inn has a European charm that your guests are sure to love! The hotel offers three different ceremony sites: The St. Francis of Assisi Chapel, St. Cecilia Chapel and The Court of The Orient.
This place is quite the gem, with the grand walls, Tiffany stained glass panels, glittering 18-karat gold leaf, gold altar, and worldly treasures. This ceremony space can accommodate up to 150 guests The also offer eight different reception sites: The Grand Parisian Ballroom, The Spanish Art Gallery, The Galleria, The Santa Barbara Room, The Renaissance Salon, The Ho-o-Kan Room, The Mediterranean Terrace, and The Atrio Courtyard.
If you are looking to have an elegant reception, The Great Parisian Ballroom is perfect. Its' resemblance to a European castle will create the ideal fairytale setting full of romance.
Another wonderful thing about this receptions space is that it is already full of beautiful features. You do not need to do much to this amazing gem!
2| Riverside Art Museum 
One of Riverside's unique wedding venues is the Riverside Art Museum. This venue is perfect for that artsy couple looking to incorporate that passion into their wedding day. We love a great art museum wedding and all of the modern charm that comes with it. The Riverside Art Museum creates the perfect, simple backdrop for your big day. Built by Julia Morgan, California's first female architect in 1929, this museum is a landmark-treasure.
This distinctive piece of architecture was inspired by Mediterranean and Classical styles. This place is now home to talented artists, and art lovers. The museum showcases a wide variety of contemporary pieces, as well as some work done by up-and-coming artists.  Your guests will be feeling so inspired throughout your whole event!
At the Riverside Art Museum, ceremonies are held in the magical garden inspired atrium. Enjoy some delicious cuisine, raise a glass, and admire the pieces in one of their galleries. Spend the rest of the night dancing under the stars on the rooftop courtyard. The Riverside Art Museums has different rental packages to choose from to accommodate your needs in the best way possible.
3| Life Arts Center
Calling all history lovers! The Life Arts Center is perfect for any couple looking to embrace the arts and culture.
Established in 1909, this building was designed by famous architect, Arthur Benton. He was heavily inspired by the Italian Renaissance. This venue attracts many tourists and artists because its' unique history and architectural beauty. The Life Arts Center has been helping couples bring their big day to life since 1993.
They seriously know what they are doing here! It is nestled in the perfect location of Downtown, Riverside. You will love the hustle and bustle that this area has to offer.
The venue has three different banquet halls to choose from. The Flamenco is the more intimate setting of the three, seating up to 150 guests. You will love the exposed seating and open floorplan. This hall allows for great customization and the decor options are endless. The Florence is a great romantic space, seating up to 200 guests. The Fiesta Ball Room is the largest of the three halls, seating up to 300 guests. This space gives off a more modern vibe, with the vaulted ceilings and wood flooring. Each space can easily be transformed into your dream wedding.
The best part? The venue has an all-inclusive package that includes bartenders, security, chairs, tables, all the decor you could think of, and catering. Check it out for yourself, and let your imagination run wild!
4| Benedict Castle 
The Benedict Castle is quite the exclusively unique wedding venue in Riverside. If you are up for a little mystery, this spot is perfect for you! It's a wonderful place to experience some uniqueness and history.
Charles Benedict created the castle after traveling Europe in 1922. The castle served as a Seminary for the Servite Order of the Catholic Church and was eventually sold to the Southern California Teen Challenge to be used as an event space. This marvelous construction has played a part in movies such as Hunchback of Notre Dame and several Frankenstein ones.
You and your guests will just instantly feel the magic as you step into this castle with its' high vaulted ceilings and ornate details. If you are just itching to find out more, you will have to go visit it for yourself!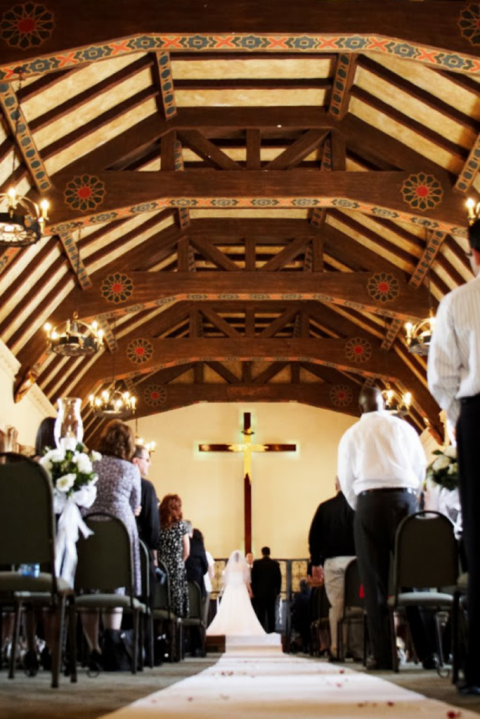 5| Loft 84
As you can probably tell, Riverside is just full of historical landmarks and unique wedding venues. Loft 84 is another great one! Don't get us wrong, this space is absolutely stunning and speaks for itself. But you will truly be amazed by the history!
Opening its doors in 1928, this venue was first a hotel. The Aurera Vista Hotel served as a flapper celebration space, an anti-aircraft intelligence headquarters during World War II, and a 1970's Ballet School. History lovers will just be fawning over it! As time went on The Ballet and the Old Riverside Foundation requested that the City of Riverside designate it as a local landmark. Thus, the City Historical Landmark No. 84 was born.
In 2014, the building officially became Loft 84 and was brought back to life. It now serves as a great place for you to spend your big day.
Loft 84 is located in the heart of Downtown Riverside amongst the coolest bars, restaurants, concert halls and more. The venue's Citrus Ballroom can hold up to 200 guests. They offer a ceremony package and a reception package. They also have several add-ons for a more customized experience. One of the add-ons allows bridal party access to the Penthouse Suite and the G. Stanley Wilson room-so cool! Loft 84 has in-house catering and a DJ upon request as an add-on. They also have a wide variety or rentals and decor for you to use to bring your vision to life. This venue is an architectural wonder that will blow you away! 
Need Help Finding A Venue?
Still in need of unique wedding venues in Riverside or other Southern California locations? Contact us today at Ivory & Lace Creative Weddings to get the help you need to kick start your wedding planning. Or you could read one of our other blogs about San Diego wedding venues, Los Angeles wedding venues, Temecula wedding venues, or Orange County wedding venues as inspiration!