Looking for an amazing wedding planner for your Estes Park, Colorado wedding? Ivory & Lace Creative Weddings has you covered. Despite being a Southern California based company, we love to travel with our couples. For example, our couple Jade and Jason, fell in love with the city located on top of the Continental Divide years ago when Jason proposed. Merely steps away from the engagement was their dream location, the Della Terra Chateau. Jade knew that they had to fly back out for their nuptials in the mountains the second she saw this venue. All photos were provided by Spika Photography.
Breakfast, Beauty, and the Mountains
Jade and Jason knew they wanted to brave the elements at get married in the mountains in the dead of winter. Despite the weather, all of their guests joyously came to help the two celebrate their love. As their wedding planner, I was worried that Mother Nature wouldn't cooperate. And as luck would be, the day of the rehearsal, the weather was miserable. We were all but certain that the wedding ceremony would have to be moved indoors. But the gods graced us the next morning with the most still and silent winter wonderland. Fresh snow draped the grounds, the sun shone brightly with only minimal cloud coverage. Despite the 17-degree weather, it was a stunning morning for a white wedding.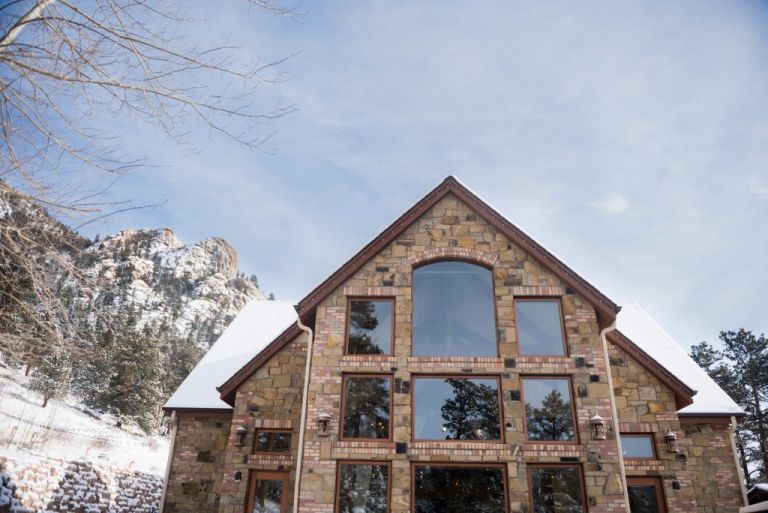 Jade and her girls got ready at the bridal salon wing of Della Terra Chateau. A wonderfully warm oasis with stunning views of the Rocky Mountains. Hair and makeup were provided by the exceptionally talented Brooke of Brooke Rock Beauty and Charlie of Charlie With the Good Hair. Jade wanted an elegant chignon to help her stand out from her long-haired maids' mermaid locks. A Disney fan, Jade gifted her maids with matching flannel Minnie Mouse pajamas. She also bought her girls some Ugg boots and faux mink stoles to keep the scantily clad girls warm during the ceremony. 
Delicate December Details
As a wedding planner, I know that detail shots are incredibly important. They serve to remind the couple of the small things they may have missed that day—but put so much time and energy thinking about ahead of time. It is my job to help capture these details so they can remember them forever. 
Winter Wedding Florals
Linda Buehler-May of Finishing Touches provided the incredible florals for this wedding. She expertly used winter greens, berries, and blooms to capture the feeling of the event. All the bouquets were wrapped in burgundy satin ribbon to match the amazingly ripe cranberries. Red is a favorite color of Jade's—and burgundy is a naturally elevated and mature version of this color. Along the pergola outside in Della Terra's open-air amphitheater, we hung large statement floral installations to flank the ceremony. It was wintery without being Christmasy.
Holiday Inspired Reception Decorations
To decorate the Chateau, we opted for a night of festive accents and lots of light. Jade wanted floating candles, garland, and blooms on every table. The colors popped on top of the venue's luxury camel colored linens—especially with the burgundy lamour napkins. For guest gifts, Jade and Jason made personalized ornaments for everyone. The script inside the glass bulbs included a welcome wish and the date and time of the wedding their guest attended. A beautiful memory for all involved. Jade, embracing Christmas, wanted to utilize snowy themed elements. Check out that adorable mailbox to Santa as their card box!
A Chilly Morning Ceremony
Be it brisk, it was a beautiful morning. As a wedding planner in Estes Park, Colorado, I came prepared for the winter weather. We greeted guests with hot apple cider, hand warmers, cushions, and thermal blankets, to keep them comfortable during the below freezing ceremony. Guests were all but thrilled to sip on their beverages and watch the couple exchange their promises of forever. 
Dancing the Night Away
Jade and Jason actually met ballroom dancing, so we knew that dancing would be a big part of the evening. About half the guests were professional ballroom dancers themselves! Our amazing DJ from DJ Maestro drove all the way from Denver to help us pump up the jams. Jade and Jason had their first dance to a custom version of Michael Buble's "Have Yourself A Merry Little Christmas" remixed with Kalid's "Better" for an up-tempo flair. Right as the sun set, the skies poured down snowflakes softly. Created a memorable moment for all guests involved. 
Inspired?
Still looking for your perfect Estes Park, Colorado wedding planner? Contact us today for a free consultation regarding your nuptials. Or read one of our other blogs to help get your creative juices moving. Please follow us on Instagram to see more of our favorite events. We look forward to hearing from you.