Planning your perfect La Jolla, California wedding and in need of a wedding planner? This seaside community boasts opulent venues, stunning views, and temperate weather all year round. La Jolla is considered the gem of Southern California. Any couple would be lucky to have their event in this city. Don't be scared of the price of some of the venues in this area! It may be pricier than other areas in San Diego, but the views and service alone are worth it. All photos were provided by Sweet Paper Media.
La Jolla Wedding Venues
My couple, Ayanda and Hang chose to tie the knot at the Cuvier Club right off of Eads Ave in downtown La Jolla. The Cuvier Club is one of my favorite venues. Abbey Catering runs the establishment and prides themselves on their impressive and affordable services. You cannot beat the price for this area. They opted for a full package at the Cuvier Club. Meaning no stone was left unturned.
Decorating for Cultures and for the La Jolla Wedding Venue
Ayanda (a Jamaican-American) and Hang (a Chinese citizen) wanted their romantic wedding to reflect their heritage. They gave a nod to the unique style of the venue. I planned a Jamaican-Chinese, Art-Deco Beach Wedding for this amazing couple and they were thrilled. 
We opted for island florals from Emerald and Ivy Floral Design. BBJ Linens provided Swaying Palms Linens to accentuate the tropical flavor the beach. These elements paid homage to Ayanda's family. To honor the guests, red envelopes (a tradition in Chinese culture) were available. The "Double Happiness" sign was also a prominent décor item. It welcomed the guests in both English and Chinese. We decided to stay in line with the style of the venue, and go with an Art-Deco style cake design from Flour Power Cakery. Table numbers from were found on Etsy. Font for the stationary items were created exclusively by Deborah Carter of Paper Doll Invitations.
Planning a La Jolla Beach Wedding Ceremony
Right down the street from the venue is the amazing Wedding Bowl (also known as Cuvier Park). This cliff facing mini-park is a highly sought-after location for weddings in San Diego. Make sure to get a permit from the city early to book this location! Ayanda and Hang continued their tropical décor throughout the ceremony with more incredibly vibrant florals, which accentuated the incredible arch and rentals provided by Bright Event Rentals.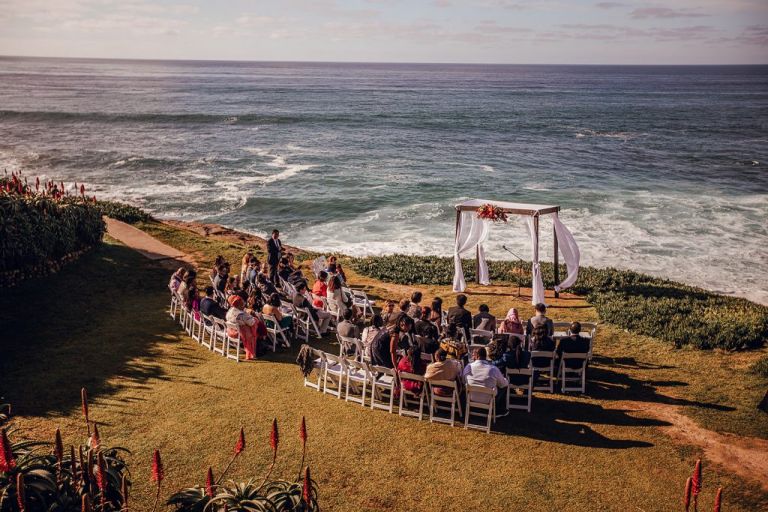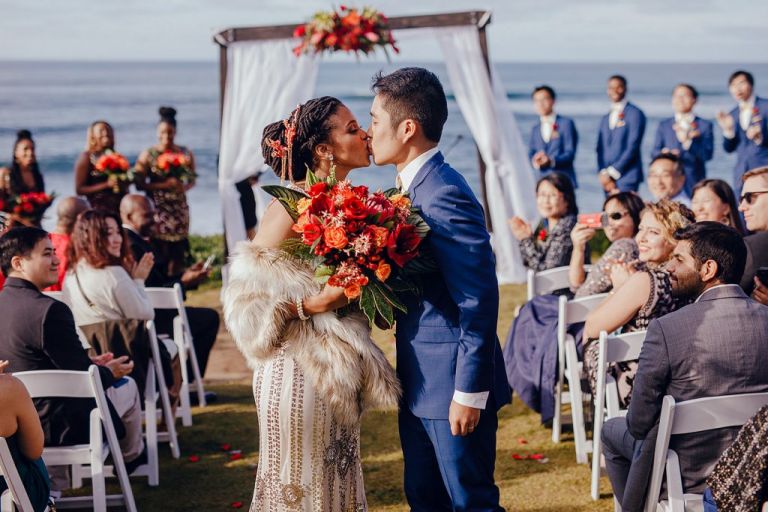 Art-Deco Styling and Fashion
To help achieve the perfect Art-Deco Tropical look for Ayanda's wedding, we planned to work with Shay from the amazing artistry company, Shaded by Shay—as well as the Tunisha and her team from Mocha Muneca to create the perfect coifs. These girls helped create a stunning timeless look for Ayanda's big day. For the dresses, Ayanda and her maids decided on intricately beaded vintage style gowns to finish their look. For her fiancé's family, Ayanda donned a traditional red and gold beaded Chinese hairpiece. This custom comb was created just for the bride and is a truly unique and heart-felt piece. Hang wore a dark blue suit, to match the ocean vibes of the location. It was a more casual choice. He and his groomsmen all felt comfortable in their linen shirts down by the beach as well. 
Added Fun Elements
To add to the fun nature of this event, Big AZ Letters provided the couple with fun extra-large marquee letters for their added "wow-factor". See bellow how the glamorous bulbs can completely change the event styling and how the pictures turned out! Note the incredible outfit change by the couple, to a more traditional Chinese garb. What fun!
How to Get More Wedding Planning Info
Still need help? Check out our blog to see some tips on what to ask vendors or contact us today for some detailed help. You can also follow us on Instagram for creative and glamorous wedding planning ideas for La Jolla and beyond!