Looking for an amazing wedding planner for your San Diego Jewish wedding? Look no further than Ivory & Lace Creative Weddings. Our staff is expertly trained in anthropology and world religions. We love cultural traditions and would love nothing more than to help you on your big day. Take our couple Jon and Leanne for example. Jon and Leanne honored their Jewish heritage by throwing a religious ceremony at the stunning Ethereal Open-Air Resort in Escondido. All photos were provided by the amazing Cate Batchelor Photography and video was provided by Knot and Gown Films.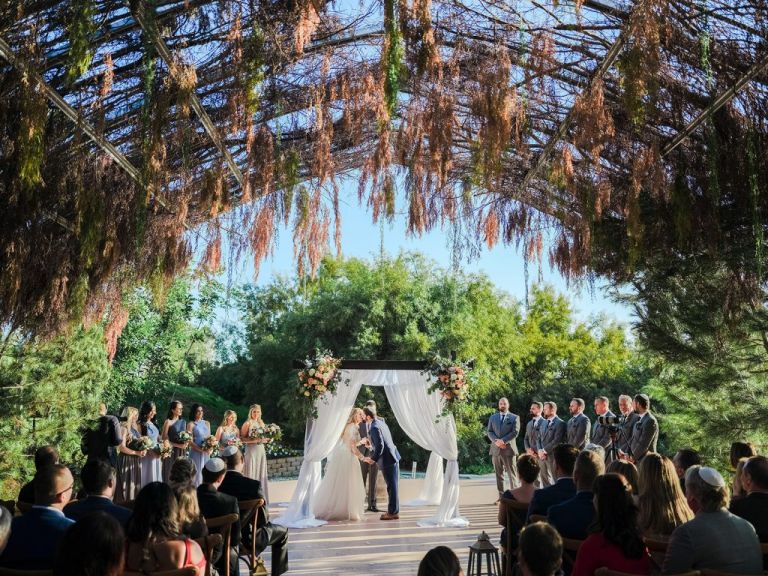 Prepping and Primping
To start the day, Leanne and her maids prepped at the amazing Rancho Bernardo Inn. The RBI is an upscale resort and spa located nearby the venue in Rancho Bernardo. Leanne gifted her maids with burgundy pajama sets and matching custom champagne glasses. Those glasses came in handy when drinking mimosas in the morning. Jon and his groomsmen opted to get ready at Ethereal in one of their incredible suites.
The Grooms Room is decked out in everything manly—this wood paneled man cave dons foosball and poker tables, restrooms, and lounge chairs. Perfect for any group of guys to stay occupied. Leanne had her own suite at the venue as well. Her dreamy room included a swinging bed, floor length mirrors, comfortable velvet couches, and private stalls. The baroque and romantic suite was perfect for Leanne and her girls to finalize their gorgeous hair and makeup, provided by the teams at Blush and Adore and Taylor Haupt Makeup. 
Flowers, Flowers, and More Flowers
When I helped plan this amazing Jewish San Diego wedding, Leanne let me know that she really wanted to emphasize flowers. Leanne's family is from South Africa, so we chose the national flower of their country, the King Protea. Kendra Gomez of Kendra's Floral Design created these masterpieces. We had long flowing garland filled with blush, soft orange, and pink roses running across the tables. We also designed an incredible chuppah with over-the-top corner floral installations for added drama and romance. 
Ceremony and Reception Décor
For ceremony and reception, Leanne and Jon really wanted to include rustic elements to match the venue. Shelby Huber of Shelby Creative Designs created these incredible signs to inform guests of location, event status, and modesty. The amazing team at Rustic Events also provided the chuppah—which is the center piece of the entire ceremony. Thank you team!
Perfectly Suited for the Event
No wedding would be complete without the perfect suit and dress. The men looked completely handsome in shale and blue suits from Friar Tux, while the maids wore classic beaded and slate gray dresses from Adrianna Papell and Azazie. Leanne's custom dress was flown in exclusively from her parent's home in Dallas Texas. It complimented her beauty nicely. 
The Bedeken and Ketubah Ceremony
When planning a Jewish wedding, you must consider all of the traditions involved. Leanne and Jon wanted to incorporate the Jewish tradition of the unveiling and the marriage certificate signing; also known as the Bedeken and Ketubah Ceremony, respectively.
Tucked away in the bridal suite, the families watched silently as Rabbi Ian from Temple Beth Israel in San Diego performed the oration and ceremony. Leanne was silently excited and radiated joy as she saw her soon-to-be husband waiting for her by the ketubah. Jon, although not Jewish himself, was more than happy to be a part of the rich traditions of his bride. 
Mazel Tov!
At the ceremony, the traditions continued. Leanne and Jon circled each other, participated in the seven steps, sipped from a sacred glass of wine, broke glass, and even took a selfie with the rabbi. This couple's love of each other and of their faith is truly unbreakable. Pun intended. 
How Sweet It Is
To finish off the festivities, my couple planned to have a giant donut display created by Ethereal Open-Air Resort. Thank you to Ethereal's incredible staff, specifically Angel, for all their help in making Leanne and Jon's day memorable and magical. Leanne and Jon truly have a sweet life ahead of them.
Inspired?
Still looking for your perfect San Diego Jewish wedding planner? Contact us today for a free consultation regarding your nuptials. Or read one of our other blogs to help get your creative juices moving. Please follow us on Instagram to see more of our favorite events. We look forward to hearing from you.