Looking for an amazing Palm Springs Wedding Planner? Ivory & Lace Creative Weddings has it covered. Take for example our beautiful couple Haylee and Ken. These two tied the knot at the exclusive Thunderbird Country Club in Rancho Mirage, California. Rancho Mirage is just 5 minutes south of the beautiful Palm Springs. Both communities are highly sought out wedding locations in Southern California. All photos were provided by Clear Light Studios.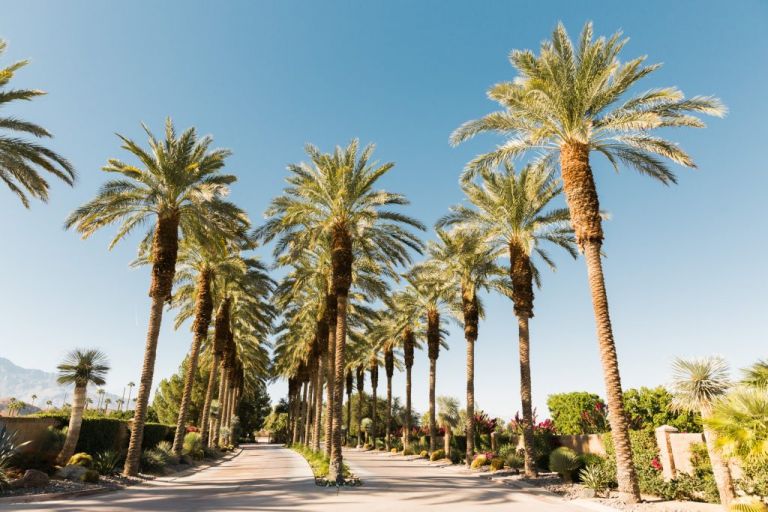 A Sunny Desert Morning
This couple was a unique and lovely couple. Due to certain unforeseen circumstances and tragedies, Haylee and Ken celebrated their wedding with mostly friends, rather than family. But that's ok! As we mature, we have the ability to choose our partners, our pack, and make our own family. And that's what Haylee and Ken did: they made each other their family. Despite their hurdles, their wedding was filled with love and joy. To start their morning, Haylee and Ken got ready with friends at their prospective Palm Springs hotels. Haylee gifted her maids with soft pink satin robes: the perfect gift for any girl getting ready! Ken plied his groomsmen with liquid courage to help them get loosened up before the big "I Do". Eventually the boys made it to Thunderbird Country Club where they were welcomed with snacks and lawn bowling. What fun!
Palm Springs Wedding Accessories
Haylee opted for nontraditional shoes for her big day. These sparkly Keds were the perfect comfy accessory to her gorgeous ballroom gown, styled by the expert seamstress Burcu at Belia Bridal in San Diego. To finish the look, Haylee enlisted the talents of Frances Pinal of Faces by Frances to finish her look. Haylee chose a soft smoky eye, rose colored lip, and long beachy waves to accentuate her crystal tiara. To match the pink, sage, and ivory theme, Ken chose a slate gray suit with black satin accents. It was a very mature and dapper look. 
Desert Blooms and Botanicals
Palm Springs Florist provided the exceptional blooms for the event. Haylee wanted tropical palms, delicate anemones, hydrangeas and roses to be prominent throughout her wedding. As her wedding planner, we chose to go with a beautiful iron arch from Found Rentals with a large statement floral installation. It was a real "wow" factor. Haylee's bouquet even donned a tribute to her late mother with a charm wrapped around the base. What a beautiful touch!
Heartfelt I Do's
To officiate their wedding, we went with an incredible heartfelt ceremony by Richard Cadeaux of Joyful Events. He was able to get to know the couple throughout the planning process and really exemplify their hearts, personalities, and love for one another. I highly recommend Richard for any wedding officiation from Temecula to Indio! By the time the first kiss came around, Haylee was so excited to be marrying her best friend that she leaped into Ken's arms with all her might, almost knocking him over. It was the sweetest, most genuine moment of the day. 
Palm Springs Wedding Reception Décor
To decorate this gorgeous venue, we decided to bring romantic pink hues and florals throughout the event. Pink botanical linens draped the tables and rose-colored pocket-fold napkins (provided by BBJ Linens) greeted each guest with a personalized menu. Instead of traditional table numbers, Haylee and Ken wanted to surprise guests with their favorite destination cities. They continued their love of travel by gifting their guests with mini plane bottle-openers. Found Rentals also provided stunning rentals; including a rustic sweetheart table, Moroccan and Kilim style pillows and throws, antique bookshelves filled with vintage books
Everlasting Love… And Golf
To add to the playful nature of this wedding, Haylee and Ken enjoyed the greens of this country club with a golf cart courtesy of Thunderbird staff. The bride and groom found the perfect inlets and areas to pose for their pictures while the sun set behind them. Nothing can be said about this couple that the smiles on their faces isn't already. I love these two!
Happily Ever After
To finish the night, Haylee and Ken opted for a decadent lemon and lavender cake created by Danny Cakes in Palm Springs. The modern confection had a trio of ribbon like layers, painted with black, rose-gold, and pink sugar in a watercolor style. It was romantic but still edgy. Also, it was extremely delicious. Thank you to this beautiful couple and all of the amazing vendors involved for helping this worthy couple have the wedding of their dreams!
Inspired?
Still looking for your perfect Palm Springs wedding planner? Contact us today for a free consultation regarding your nuptials. Or read one of our other blogs to help get your creative juices moving. Please follow us on Instagram to see more of our favorite events. We look forward to hearing from you.