I was contacted by the amazing Ashley Strong Smith to help collaborate on this romantic shoot. We decided we wanted to showcase how to have a romantic San Diego African safari wedding. She had lived in Africa for years and this shoot design had always been close to her heart. I knew I wanted to come into this whole-heartedly, because it meant so much to her. So, when it came time to design and execute this shoot, I really helped her take a walk on the wild side.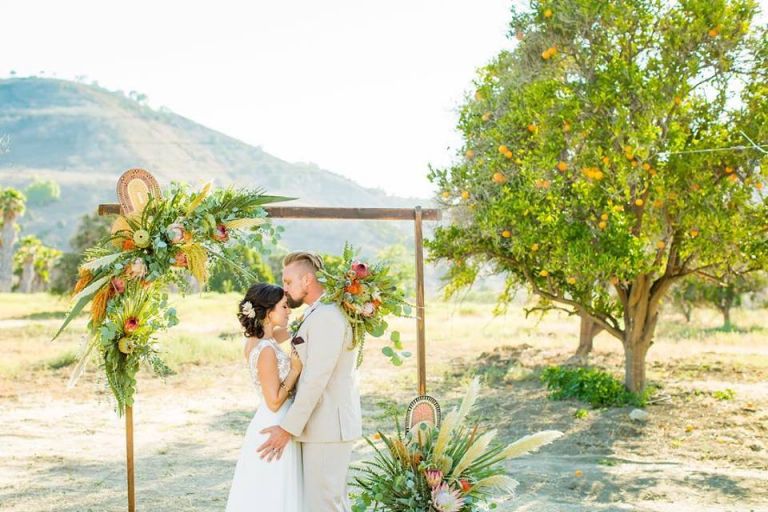 Production and Design | Ashley Strong Smith and Amanda Eggers | @ashleystrongphotography, @ivoryandlacecreative
Coordination | Ivory & Lace Creative Weddings | @ivoryandlacecreative
Photography | Ashley Strong Smith Photography | @ashleystrongphotography
Venue | A Stone's Throw Winery | @astwinery
Florals | Kendra's Floral Design | @flowersbykendra
Dress | Archive Bridal | @archive_bridal
Accessories | Noonday Collection | @brookeaustintorres, @noondaycollection
Hair | Mirella Manelli | @mirellamanelli
Makeup | Jamie Michele Beauty | @jamie.michele
Suit | Friar Tux | @friartux
Rentals | Sundrop Vintage Rentals | @sundrop_vintage
Invitations | Something Lettered | @something.lettered
Catering | Flavors of East Africa | @flavorsofeastafrica
African Safari Wedding Venue
We found this amazing venue just west of the 5 freeway in San Juan Capistrano, California. Nestled amongst the orange trees synonymous with the southern region of the state, lies a quaint venue called A Stone's Throw Winery. Located in the historic Swanner House in San Juan Capistrano, A Stone's Throw is a truly unique venue. The Swanner House consists of three buildings on a large orchard type property: A two story home, a tank house, and a garage—all in the popular 1920s craftsman style. We decided to focus our shoot in their amazing orange orchard and sprawling lawn. This lawn is perfect for large scale events like weddings—and the sunset over the local mountains was truly breathtaking. Ashley Strong Smith and I both thought this was similar to an African Sahara and we're so excited they wanted to join us in this shoot. 
African Safari Wedding Attire
We decided to dress our couple in very loose, natural fabrics—just like how you would find on the Savannah. Our bride wore a flowy sheath dress with latticed lace appliques along the illusion neckline from Archive Bridal. Her hair was styled in a coiffed updo by Mirella Manelli, because we wanted her beautiful natural look makeup by Jaime Michelle to really shine through. Our bride also wore pearlescent enamelware bracelets and earrings from the Noonday Collection jewelry line. We wanted to double up on bangles md really bring in the tribal look without going over the top for our model's aesthetic. Our male model wore tan trousers, merlot dress shoes and suspenders from Friar Tux. We went beltless to keep him looking more casual. We also rolled up his sleeves and intentionally left out the dinner jacket, so he looks like a brazen adventurer on safari. 
African Safari Wedding Photography
The star of the shoot was Ashley; this was really her baby from start to finish. I am so grateful that she brought this project to me from the beginning. Her incredible usage of light with her art makes every picture stunning. She does an excellent job capturing candid moments of pure joy and excitement between any couple, including our incredible models. She tries to keep couples natural in their environment so they are comfortable and truly shine.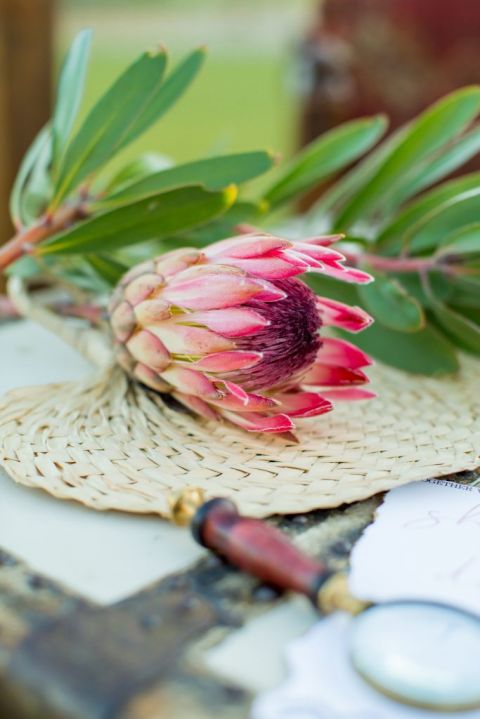 African Safari Wedding Florals
As we went through the planning process of our shoot, we knew we wanted to keep things as natural and wild as possible when it came to floral design. We went over-the-top with a huge arch piece, covered in three different types of protea flowers, pampas grass, palm fronds, and eucalyptus. Kendra was even able to incorporate some woven hand fans from Ghana. For the bridal bouquet and the boutonniere, she incorporated the use of the protea and even added a smaller FOURTH species known as Blushing Bride Protea for the boutonniere—a really cute touch! Kendra's over-the-top florals really added to the bushveld landscape, creating a romantic sense of wilderness.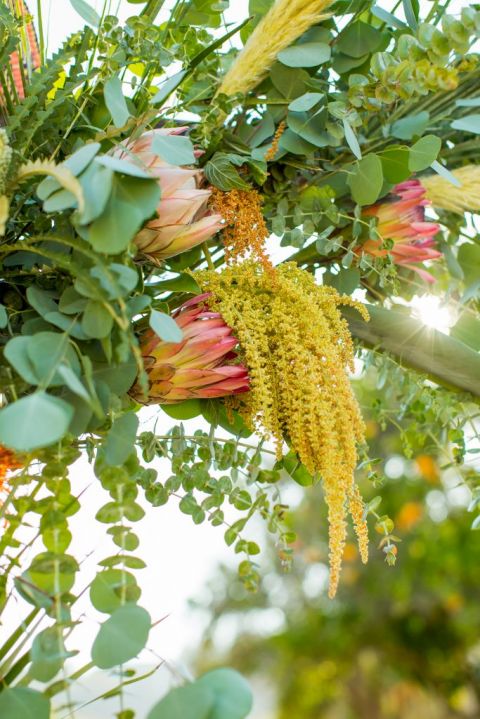 African Safari Tablescape and Food
The dining table and place settings were all provided by Sundrop Rentals, based in San Clemente. We decided to do a mix-and-match plate and goblet design with their antique finds, and we utilized their incredible gold bamboo-stemmed flatware to keep in theme. To add to the journey of our shoot, we enlisted the help of local celebrity chef Alvin June of Flavors of East Africa. Flavors of East Africa is one of the only, and by far best, authentic Kenyan inspired restaurants in San Diego. To keep our feast authentic we had Mbuzi Goat shanks over Biriganya (eggplant curry) and tender lamb curry served over a bed of Nyoyo (a vegetarian bean, potato, and carrot dish). 
African Safari Wedding Lounge
Sundrop Vintage Rentals is a unique specialty rental and design company based in Orange County, California. Family run and operated, this team would not have been completed without their incredibly versatile pieces. We took their canopy and repurposed it as a focal piece for our lounge setting by anchoring the piece with their red tapestried Monterey chairs. These mission-style pieces were the perfect blend with oversized ivory trunk and vintage library table and gramophone. We added smaller elements like some of their brass elephants and cranes to continue on with the safari feel. Our models were truly comfortable in this wild vignette.
African Safari Wedding Invitations
And finally, we have the invitation, signage, and stationary design! A modern calligrapher, Denise from Something Lettered really shined in this challenge. Denise created an invitation suite, composed of stylized zigzag tribal motif. We kept the colors pastel and warm, similar to an African sunset. Along with the invitation suite, Denise made the menus for the feast as well as a gold sparkle hand-lettered bar list for the wine.  She is a "one-stop-shop when it comes to all things lettered!"
Looking for More Creative Wedding Theme Ideas?
Check out more blogs just like How to Have A Romantic San Diego African Safari Wedding: like How to have a Glamorous Gatsby Inspired Wedding or How to Have a Vintage Circus Wedding!